Adult male and female drill monkey at Drill Ranch, Cross River State, Nigeria. (photo by Cyril Ruoso)

The name Pandrillus comes from the genus for the species Mandrillus, and the Latin word for "all", Pan. The mission of Pandrillus encompasses all drills – those in captivity and the wild.

In the 1980s, drills were believed by the international scientific community to be extinct in Nigeria and on Bioko Island, Equatorial Guinea. The only known population was in Korup National Park, Cameroon. In reality, drills were still found across most of their original range from the Cross River in Nigeria to the Sanaga River in Cameroon. They were being hunted relentlessly, their habitat was being fragmented and destroyed and they had been largely overlooked by the conservation community. In zoos in Europe and the USA drills bred poorly and their popluation was also in decline. No long term studies in the wild had been achieved and little was known of their biology, ecology or even where they could be found. Drills were listed by the the IUCN as the highest priority African primate for conservation action.

Pandrillus founders Liza Gadsby & Peter Jenkins began work in Nigeria & Cameroon in 1988. They soon after embraced the challenge of preventing the extinction of the highly endangered drill monkey Mandrillus leucophaeus. Since then, the mission of Pandrillus has expanded to include chimpanzees, and other wildlife that share the drill's habitat in the Cross-Sanaga region, a small area in the heart of Africa with exceptionally high primate diversity.

Liza and Peter with David Iferi of Edondon village, donor of drill Richard Iferi, in 1992. (photo by Tunde Morakinyo)
Pandrillus projects use a multi-faceted approach, combining in situ and ex situ activities, including: habitat protection, captive care and breeding, research, training, small scale development schemes, education and positive advocacy, all aimed at promoting the drill as a species and wildlife conservation generally. Projects collaborate with state and national governments, communities, traditional rulers, other international and local NGOs, zoos, advisory groups, and the private sector to achieve these goals.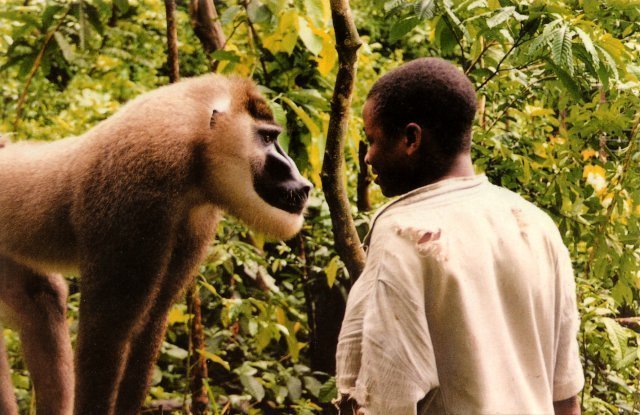 Richard Iferi with keeper Peter Kekong of Buanchor, Boki, Cross River State, in Drill Ranch's first forest enclosure at Afi Mountain. (photo by Sarah Seymour)
Pandrillus works in Nigeria and Cameroon in its capacity as a Nigerian-registered non-profit trust. Pandrillus Foundation is registered in the USA as a 501 c 3 non-profit organization.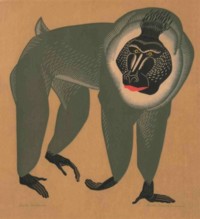 The logo of Pandrillus is a reproduction of a 1940 linocut print by the late San Diego artist Belle Baranceanu. The print is entitled Drill Baboon. Ms. Baranceanu did a series of wildlife prints from observations of animals at the San Diego Zoo in the 1930s.
Pandrillus Foundation is grateful for permission to use this beautiful image, courtesy of the Curatorial Collection of the San Diego Historical Society, who hold the copyright.