Visitor Information
for Drill Ranch Afi Mountain
Kache Bano Canopy Walkaway
Afi Mountain Wildlife Sanctuary
Boki LGA, Cross River State, Nigeria
Drill Ranch
Drills are one of Africa's most endangered primates, and here is the only place in the world to see natural-sized captive drill groups in natural habitat. The founders of our drill groups were recovered as orphans after their nursing mothers were illegally shot for bushmeat. We have rehabilitated over 85 lone drills into 6 social groups, now bearing a new generation; over 450 drills have been born at the project. There are 5 drill groups, each in their own electric fenced enclosure, powered by our solar energy system. The enclosures can be reached down different winding paths through the forest; the largest enclosure perimeter is nearly a kilometer around.
Drill Ranch also provides a lifelong home for orphan chimpanzees, and our busy chimpanzee group can be seen in their forest enclosure. Please keep in mind when you visit the chimps' enclosure that you are not only coming to see them but, more importantly, you are coming for them to have a look at you! Chimpanzees can be excitable and great care must be taken near their enclosure: all visitors must be accompanied by a staff member when visiting the chimpanzees and comply with their instructions for their own security and that of the animals.
There is plenty to keep you busy at Drill Ranch. In addition to seeing the animals there are beautiful walks in the rain forest to the canopy walkway (see below), and beyond to the pools and waterfalls of the Bano River coming straight off the mountain, making a very refreshing dip. Our demonstration tree nursery was heavily damaged in the landslides of 2012 and we are hoping to find funds to rehabilitate it. The cultivated 'afang' beds survived and illustrate agroforestry techniques.
Some of our guests enjoy visiting our nearest villages – Buanchor and Katabang – each just about 5 km from camp. Visitors will find the villages very friendly and excellent palm wine is available at the right time of year.
There are 6 guest cabins at Drill Ranch, each with a private deck and view of the mountain, looming above the largest drill enclosure. The cabins are fully screened but open to the air on all four sides. From your comfortable bed you can watch the drills climbing up to 35 meters in the trees. Guests are charged on a per person, per night basis, regardless of the number of cabins or beds used. There are rollaway beds for children which can be prepared in any cabin. Bedding and towels are provided. Cooking is in a shared facility with Drill Ranch senior staff that live in camp. All cooking utensils are provided, and all guests must bring their own food and drinking water. Warm beer and soft drinks are available from the nearby villages. There is also a place to camp and we are developing a site for overland trucks to set up.
Kache Bano Canopy Walk-A-Way
The Kache Bano Walk-a-Way, installed nearby by the Cross River State Tourism Bureau, is a world class rainforest canopy experience. It is an easy hike from Drill Ranch camp and was the longest and highest canopy walkway in Africa; sadly, most of the walk-a-way was wiped out in the 2012 landslide. For those who have visited the canopy walkway at Kakum National Park in Ghana you will be interested to know that the Kache Bano Walkaway was built by the same people but is far more sophisticated in terms of design and materials.
Unfortunately, in July 2012 the Kache Bano Canopy Walkaway was heavily damaged by a massive mud and landslide down the Bano stream drainage. A few of the spans have now been restored. The clear swimming pools and cascades of the Bano upstream from the walkway were filled with debris. This natural disaster is a real tragedy and we have lost some of the loveliest natural features of the greater Drill Ranch area. However, the Bano stream is beginning to stabilize and there are some small pools once again available for a refreshing dip. It is interesting to see how the landscape is beginning to settle and vegetation recolonize but it will never look the same again our lifetimes!
Afi Mountain Wildlife Sanctuary
The Afi Mountain Wildlife Sanctuary was created in May 2000 and is managed by the Cross River State Forestry Commission. Protection and research is sponsored by a partnership of NGOs (Pandrillus, Wildlife Conservation Society and its partners) with government. After generations of hunting, Afi's gorillas, chimpanzees, drills and other endangered species are shy and need a few more years of good protection before they will be easily seen. Afi's gorillas belong to the most endangered subspecies – the Cross River gorilla. Day hikes or multi-day treks can be arranged by Drill Ranch. There are modest, additional fees required which are collected by Drill Ranch on behalf of the Forestry Commission. Guides are required.
Afi Mountain is listed as an 'Important Bird Area' for Nigeria, and the migratory swallow roost at Boje is one of the largest in Africa. Bird-watchers are welcome, but mist-netting is not permitted except by special arrangement with the state wildlife authority.
MINIMUM FEE SCHEDULE
Fees current as of November 2019 (subject to change without notice). Fees are negotiable in advance for student groups.
100% of your accommodation fees support staff salaries, operations & animal feeding at Drill Ranch.
Overnight accommodation or camping at Drill Ranch –
fees are per person
accommodation (cabin & bedding, shower, etc.) per night 8,000 Naira
children under age 10 sharing cabin with parents per night 5,000 Naira
un-assisted camping (water, shower, latrine only) per night 2,500 Naira
Additional Charges
Guide for hikes per day within the ranch 1,000 Naira per group
Afi Mountain Community Development Fund – per person per night Naira 250
vehicle surcharge for road & bridge maintenance – 1,000 per vehicle
Please remember that Drill Ranch at Afi Mountain was not primarily designed as a tourism destination – it is a working wildlife project at which you are a guest. The animals come first and foremost and daily project operations and unexpected events must sometimes take precedence over visitors activities. In an animal emergency you must follow direction from the staff precisely.
HOW DO WE GET TO DRILL RANCH at AFI MOUNTAIN ?
As of September 2014, the road access route has changed so if you have visited before, please take note. Road conditions vary so always consult with project headquarters in Calabar if you intend to drive in to camp.
If you are flying to Cross River State, the closest airport to Afi is Enugu, not Calabar. From Enugu take the Abakiliki Road to Ikom.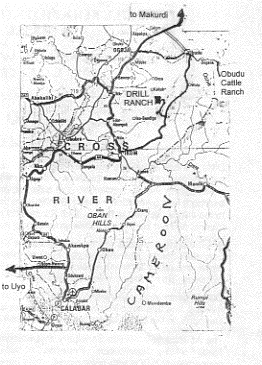 Depending on the season, you may need 4-wheel drive for the last 6 km, but camp can usually be accessed if your vehicle has enough power, good tires & clearance. Weight limit on bridges & culverts is 3 tons per axle.
From the south, go right at "Four Corners" in Ikom onto the Obudu Road. Drive about 68 km north to a new tarred road on your left (2 km before the village of Wula). Follow this road west thru Olum Village, and another 10 km or so south to Buanchor village. Here you should stop and ask how to drive thru the village to Drill Ranch – the original road bed and bridges were wiped out in 2012 and a permanent new route has not been established. Take directions as you wend your way thru the village; you will ford the river. Drill Ranch is 5 km south of the village; you will see a well-used dirt track on your right with a little sign on your left. From here drive 1 km directly into camp; please do not divert or stop before you reach camp.
From the north, go south from Obudu Town on the Ikom Road about 47 km, or 44 km south from the Obudu Cattle Ranch and Bebi Airstrip turn-off. About 2 km south of Wula village, find the new road to Olum and Buanchor village on your right heading west (see above for details).
If you are coming by public transportation, you can use okada (motorcycle taxi) from Wula and come in on the new tar road described above. If you are coming from the south (Ikom) on public, you can go the same way or take the old road thru Katabang village – it is shorter but accessible only by motorcycles at this time. Stop in Abo Ogbagante village, 46 km north of Ikom and tell them you want to get to Drill Ranch. The old road via Katabang is 10 km north of Abo Ogbagante – there's a police post and a sign reading: "Forestry Commission – Afi Mountain Wildlife Sanctuary". Drive 6 km west to Katabang village, crossing the Afi River. Turn right at the T-junction in Katabang and continue north 6.5 km to the marked left turn into Drill Ranch. You can also get a motorbike at Kanyang #1 village, just north of the Katabang turn.
The drive takes about 5-6 hours from Calabar and 1.5 hours from Obudu Cattle Ranch. From Abuja, the drive is 8-9 hours; please write us in Calabar and we'll give you some road tips.
The new paved road from Wula goes almost all the way to Buanchor. If you have a delicate car, you could arrange with someone in the village to look after it and hire motorbikes to take you and your gear into camp.
Whichever direction you come from, take care you DO NOT GO TO OGOJA, you need to be on the Ikom-Obudu Road to find our turn.
WHAT DO WE NEED TO BRING ?
Food Drill Ranch is self-catered. Everyone must provide their own food and do their own cooking. Onions, beans, rice, salt & cooking oil may be available in nearby villages. Camp has cooking facility, pots & pans, utensils, etc.
Drinks Our borehole water is only semi-potable, and groups are advised to bring their own drinking water or purification method. Warm soft drinks & beer can be obtained in Buanchor village. There is currently no refrigeration in camp
Supplies Kerosene, soap, cigarettes, batteries & other basics are usually available in nearby villages. The nearest reliable petrol & diesel is at Ikom or Obudu towns so be sure to fill up.
Sleeping Our screened luxury cabins are typically booked on holiday weekends so please contact Drill Ranch Calabar in advance. Bedding and towels are provided. For un-assisted camping rates, bring your tent, camping pads, hammock and/or mosquito nets – the more equipment you bring, the more comfortable you will be. Everyone should bring their own flashlight or torch!
Clothing Long-sleeved shirts, trousers, socks and shoes are the attire; we strongly advise against shorts, sandals and T-shirts, especially for children. Pack a swimsuit for the little pools on the Bano. You will want rain gear in rainy season.
THE AFI MOUNTAIN AREA – BOKI LOCAL GOVERNMENT
Afi Mountain lies in the land of the Boki people, and Drill Ranch works to make wildlife conservation benefit Boki – we are the area's largest private employer. We provide tools and employ youths to improve and maintain roads and bridges – your vehicle surcharge helps this essential work. We buy produce from local farmers to feed the animals. Your N250 daily tariff creates a fund for the Pandrillus Green Grant. This is a competitive award granted to indigenes of Afi Mountain communities for eco-friendly projects of their own design. In this way eco-tourism revenues directly support better livelihoods in this part of Boki.
Visiting AFI MOUNTAIN WILDLIFE SANCTUARY
You must be well equipped to go up Afi Mountain with hiking boots, backpack, canteen, food, something to sleep on, and a compass if you have it. A tent is not totally necessary but you may want a mosquito net. A guide is compulsory and we strongly advise hiring a porter – it's very rugged and you will not want to be carrying more than your binoculars and camera. Day hikes to the WCS research camp are possible, and it and other camps and caves on the mountain can be used for overnights. Afi Mountain is a massif of steep canyons and ridges and you must be physically fit to enjoy the experience. Your may not see all the animals you would like to but it's a guaranteed thrill to find the track or sleeping nests of the most endangered great apes in Africa – and to know you are one of the few who had the privilege!
If you are in Nigeria and wish to come stay at Drill Ranch Afi Mountain, please give us a call to make arrangements and be advised of road conditions. Our camp fills up quickly so it is best to contact us rather than just showing up.
+234 803 592-1262
Thank You!