Donate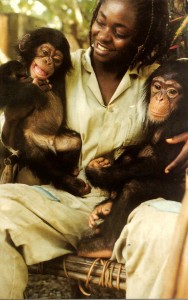 Please Help!
Pandrillus projects are currently caring for over 750 primates in Nigeria and Cameroon, and employing over 70 nationals on a full time basis. The cost of animal food, staff salaries, spare parts and fuel for our old Land Rovers, and so many other things increases every year. There is much more work to do, including release of animals back to the wild, wildlife advocacy with government, staff training and infrastructure improvement: Pandrillus programs have lots of innovative ideas and plans in support of wildlife conservation in this important part of the world, yet we are typically unable to implement them due to funding shortfalls.
Donations and grants are our only sources of income without which this work is not possible. No donation is too small (and no donation is too large!). If you are able to help please contact us by using any of the following means.
You may donate online or by sending a check. All donations are tax-deductible for U.S. income tax purposes.
Via PayPal or Credit Card:
You may specify whether you wish to donate to Drill Ranch, Limbe Wildlife Center or Pandrillus Foundation general fund where your gift will be applied where it's needed most.
In the USA:
Donations to Pandrillus Foundation are fully deductible for income tax purposes. Checks can be sent to:
Pandrillus Foundation
P.O. Box 10082
Portland, Oregon 97296
You can specify whether you would like to support Drill Ranch or Limbe Wildlife Center or you can make a contribution to our general operating funds so that we can apply funds where they are most needed.
In Europe:
Donations can be made to Rettet den Drill, a German NGO that raises money for Pandrillus projects. Please visit their website!
In Nigeria:
Please contact us directly at the project headquarters in Calabar.
Pandrillus
H.E.P.O. Box 826
Calabar, Cross River State
+234 803 592-1262
or use our Contact page to send us an email!
Naira Donations or payments for Camp Fees can be made direct to our account:
Bank: First Bank of Nigeria
Account Name: PANDRILLUS
Account #: 2003 793 134
In Cameroon:
Pandrillus
P.M.B. 878
Limbe, Southwest Province
+237 9926-6278
Please also see Limbe Wildlife Center's website: