The Drill Rehabilitation & Breeding Center
"Drill Ranch"
Cross River State, Nigeria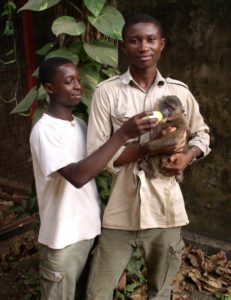 Founded in 1991 the DRBC is the region's first primate rehab project. Illegally held drills orphaned by hunting are donated by local citizens or handed over after seizure by authorities; no animals are purchased or removed from the wild. Over 75 drills have been recovered, and rehabilitated to life with members of their own species, after thorough medical screening. In western zoos, drills have reproduced poorly, but the DRBC has recorded over 250 births to rehabilitated wild born parents and their offspring, making the project the world's most successful captive breeding program for an endangered primate. Today, 286 drills live in 6 family groups, each in their own natural habitat electrified enclosure of up to 9 ha. There are plans to release the first group back to the wild in 2008.
Head drill keeper in Calabar Jacob Elemi cares for a newly arrived orphan drill, assisted by Njurah.
Drill Ranch is also home to 28 orphan chimpanzees. As man's closest relative, the chimpanzees add greatly to visitor education by stimulating interest and sympathy for wildlife.
The project has two sites. The original site in Calabar, the Cross River State capital is where it all began. Today, "Drill Ranch Calabar" serves as the project headquarters, office, quarantine facility for new animals and our veterinary surgery, with housing for the directors and rotating volunteer staff. One of the project's 6 drill breeding groups is also here so everyone who lives in or visits the state capital has the opportunity to see drills. This group now numbers 39 animals in 4 generations, including our first drill, named "Calabar", now a great grandmother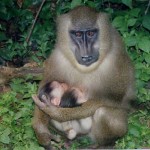 Captive bred Kikelomo is mother of the first recorded birth of drill twins anywhere in the world. She successfully raised the identical boys, Kehinde & Taiwo, in the Group 1 forest enclosure at Afi. Her mother, Kekere, was rescued from Lagos and remains the dominant matriarch in Group 2.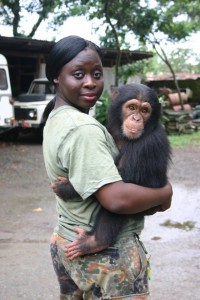 Drill Ranch Calabar is also home to our chimpanzee nursery – the project's youngest chimps live here where they can receive the round-the-clock care and supervision they need before moving to Afi at age 6-8 years.
Head chimpanzee keeper and Calabar assistant manager Irene Edem with Lucy, rescued from a lonely, bare cage at a hotel bar in the Nigerian capital, Abuja.
Drill Ranch Afi Mountain is the project's field site, and the destination for animals clearing quarantine in Calabar. Here are 5 drill groups, each in their own electric fence enclosure of natural drill habitat. Most project drills, descendants of wild born orphans received in years past, were born at Afi Mountain and have lived in the forest all their lives. The chimpanzees have their own enclosure which is undergoing a massive expansion and will be nearly 20 hectares of primary forest once completed.
Both Drill Ranch project sites are open to the public free of charge, 365 days a year. Thousands of people, mostly local citizens who share the drill's habitat, thus have the opportunity to see natural-sized drill family groups and chimpanzees and learn about the animals and the challenges these species face in the wild. Every visitor receives a guided tour by a staff member and free handouts to carry home. In Calabar, Drill Ranch is a popular excursion for nursery, primary and secondary school students, and undergraduate and graduate students from the University of Calabar and beyond. Conservation education and awareness is a part of everything we do.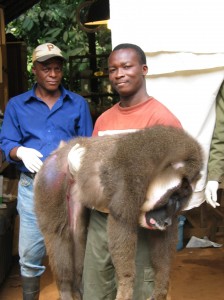 Drill Ranch Project Manager Adeniyi Egbetade carrying adult male Osomba (under anesthesia), and assisted by James Ebe, head drill keeper at Afi.
Ade came to the project as part of the National Youth Service Corps scheme, fresh out of veterinary school. He stayed with the DRBC after his year of service and becamer our first staff veterinarian. He went on to do additional training in The Netherlands and spent several months at Limbe Wildlife Center. He has become Nigeria's first wildlife vet, and of the few African vets with broad experience with great apes.
Here, he has just completed a successful vasectomy on Osomba, then dominant male of Group 2. Osomba had sired more than 10 offspring, and every effort is made to carefully manage our drill breeding groups to promote maximum genetic diversity.
Drill Ranch Afi is in the Boki tribal or local government area, and is a 4 hour drive north from Calabar. The project site is nestled at the foot of Afi Mountain, and was designed to serve as the impetus for a local conservation initiative. Pandrillus started with full time staff there on the ground in 1993 and moved the first animals there from Calabar in 1996. The area was regazetted as the Afi Mountain Wildlife Sanctuary in 2000 (for more information please see the page for the sanctuary).
Afi Mountain as seen from the main lodge at the Drill Ranch camp. The forest canopy in the foreground is inside the drill Group 1 enclosure.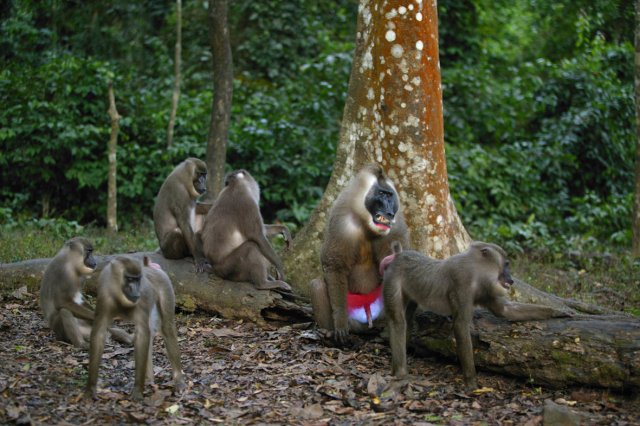 Dominant male Kebi smiling with some adult females in Group 1. Kebi came to the project as a severely malnourished orphan from a village in the Oban Hills in 1991. He became one of the most successful dominant males in the project's history, and was a favorite of staff because of his gentle, calm disposition and skill in controling his group. Kebi died when the tree he was sleeping in crashed down during a storm in 2005, a year after relinquishing his position as dominant male. His many offspring are amongst the group to be released to the wild in 2008. (photo by Cyril Ruoso)
The host community directly benefits from the project in many ways, including:
Salaries and health care benefits for 20+ full time local staff
Purchase of animal food direct from local farmers (>$2,500 per month)
Attraction of government interest to local communities bringing roads, boreholes, etc.
Training, tools and wages to unemployed youth to maintain local roads & bridges.
Tax on eco-tourism guests provides funds for annual "Green Grant" award to communities.
Purchase of miscellaneous supplies from village merchants.
Native tree and vegetable nursery provides seedlings to interested farmers & schools.
Donation of science equipment and other resources to local schools.
Support for local artists and craftsmen to add value to timber and non-timber forest product.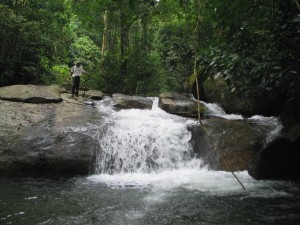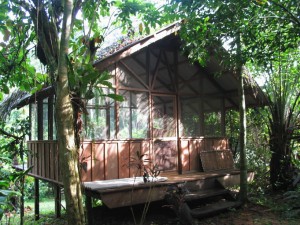 Drill Ranch is the largest private employer in Boki, providing alternative incomes to mostly young men who might otherwise practice slash & burn agriculture, hunting or logging. Recently, Drill Ranch has emerged as a popular eco-tourism destination helping support the project, and attracting positive attention of government to the potentials and needs of the area. Ecotourism developed as a partnership between Pandrillus and the Cross River State government who supported the construction of guest cabins and installed a world-class rain forest canopy walkway nearby.
In 2001 President Olusegun Obasanjo visited Drill Ranch Afi Mountain, the only conservation program or protected area he visited in Nigeria during his 8 years in office. His visit added tremendous value to wildlife and forest conservation in the minds of the local people, and the nation as a whole.
from left:
Cross River State Governor Donald Duke, former Drill Ranch Manager Ubi Sam Ettah, and President Olusegun Obasanjo.